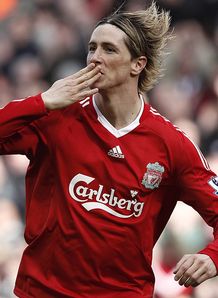 Fernando Torres insists he had no option but to go under the knife and was not thinking about the World Cup.
The Liverpool striker has seen his season cut short after it became apparent that he required surgery to repair damaged cartilage in his right knee.
He will now sit out the Reds' remaining games of the 2009/10 campaign, unable to play any part in their Premier League endeavours or bid for Europa League success.
Torres should, however, be back to full fitness in time to spearhead Spain's pursuit of global glory at this summer's World Cup.
Some people have suggested that the 26-year-old has put his country before his club by opting to have an operation now, but the hot-shot striker is adamant that is not the case.
Torres told his personal website: "It's not true. We exhausted all the possibilities before arriving at the final one.
"There were three options. One was that the meniscus was okay, the second was that the problem was not clear and the third that the meniscus was affected.
"On Friday afternoon in Liverpool the scan I had cleared up the doubts and made us see that I would almost definitely have to have an operation.